WHATEVER YOU CHOOSE, IT'S THE RIGHT DECISION!
Your future begins now.
WE ARE ONE OF THE BEST TRAINING COMPANIES IN GERMANY
We are a fourth-generation family company and one of the largest employers in Balve. In 2018, Focus Money listed us among the best training companies in Germany. Our gear pumps, valves and oil supply systems are used in shipbuilding, wind energy, motor and gear manufacturing and in numerous general mechanical engineering applications.
For decades, we have successfully trained young people in industrial and commercial professions. If you have successfully graduated from school and are ready to start your working life, we can offer you the perfect start to a promising professional future at RICKMEIER.
In the industrial sector, training takes place in our trainee workshop at state-of-the-art PC workstations and CNC machines. Commercial trainees acquire the relevant professional know-how directly in the various departments of our company. If you are highly motivated and interested in a career at RICKMEIER, read on for details of the vocational training courses and combined study programmes we offer. You will also find further information on internships, holiday jobs and working as a temporary student employee. You need good communication skills, reliability, the ability to work in a team and empathy!
EXCELLENT PRECONDITIONS FOR YOUR CAREER
To qualify for a traineeship in an industrial or technical profession, you should have either a good Hauptschulabschluss (school-leaving certificate from a lower secondary school) or a successful Realschulabschluss (school-leaving certificate from a higher secondary school). For commercial professions, we give preference to applicants who have successfully completed a two-year course at a Höhere Handelsschule (commercial college) or have acquired their Abitur (university entrance qualification). For a dual studies programme, you will require advanced technical college or university entrance qualifications.
OUR APPLICATION PROCESS:YOU'RE IN!
Our main selection procedure begins every year in autumn, following an internal pre-selection process. Training courses begin after the summer holidays in the subsequent year.
WE REWARD GOOD PERFORMANCE
Trainees who achieve above-average results are offered the chance to take their final exams sooner. And we have interesting job offers for trainees who successfully complete the programme.
INTERNSHIPS FOR STUDENTS
We offer internships and practical internship terms in Production, Logistics and Product Development for interested students of mechanical engineering. These internships should last for a minimum of three weeks. We also offer you the opportunity to write your practical dissertation in cooperation with our company.
INTERNSHIPS FOR PUPILS
We offer so-called in-company work placements for school pupils. Here, we have collaborated successfully with the secondary schools in the region for many years. In particular, we offer young people who are interested in taking up an industrial or technical profession the chance to gain an in-depth insight into our company during the school holidays. In our trainee workshop, you will learn about the training professions we offer and have the chance to look over the shoulder of our trainees.
All interns receive a certificate or a brief report on completion of the course.
EVENTS, FAIRS, TRAINING COURSES AND PLENTY OF SUPPORT
Every year, our trainees go on a trainee's trip and also support our trainers when they visit schools to give courses with practical examples in order to prepare pupils for the requirements of professional training. Together with representatives of our workforce, we frequently participate in local training fairs, and we are glad to offer you individual support in preparing for your exams, with reimbursement of travelling expenses and contributions to capital formation and retirement funds.
CUTTING MACHINE OPERATOR (m/f/o)
  DURATION OF TRAINEESHIP 3.5 years
If you are interested in machines and technology, good with your hands, place great importance on working precisely and enjoy working with a computer, the profession of cutting machine operator is right for you. In our trainee workshop, you will learn how to machine workpiece parts in processes such as turning, milling or grinding and how to programme computer-controlled machine tools.
INDUSTRIAL MECHANIC (m/f/o)
  DURATION OF TRAINEESHIP 3.5 years
You have always been fascinated by the screws on devices and machines and would now like to move on to components on an industrial scale? This is a good basis for the profession as an industrial mechanic. Without you, production comes to a standstill, because you are responsible for programming, setting and servicing the machines and ensuring that the individual parts required for assembly are manufactured smoothly and "just in time."
YOUR APPRENTICESHIP AS A METAL TECHNOLOGY SPECIALIST (m/f/o)
  Duration of Traineeship 2 Years
Specialisation: Assembly techniques
You have always enjoyed working with individual parts to create a large component or assembly? Have you been fascinated by a wide variety of assembly techniques such as pinning or screwing? This means that you fulfil important requirements for an apprenticeship as a metal technology specialist in the field of assembly technology (M/W/D). In our training workshop, you will learn all the assembly techniques that you need for your daily work in order to produce assemblies or machines from individual parts. In addition to assembly, it will also be your task to check whether the machines function as intended after assembly.
SPECIALIST FOR WAREHOUSE LOGISTICS (m/f/o)
  DURATION OF TRAINEESHIP 3 years
Organisation and planning are your strong points? You enjoy doing things yourself and would prefer to work in large halls rather than only in an office? The idea of working with machines and large-scale equipment doesn't bring the sweat on your brow? Then let's move things together! As a specialist for warehouse logistics, you are responsible for incoming and outgoing goods as well as for inventory and quality control. This traineeship will teach you all about professional storage of goods and order picking.
INDUSTRIAL BUSINESS MANAGEMENT ASSISTANT (m/f/o)
  DURATION OF TRAINEESHIP 3 years
You know exactly what you want, you are communicative, love dealing with people, are good at organising, and you have a good head for figures? Then you are well equipped for a commercial profession! During your training as an industrial business management assistant, you will get to know all commercial departments of the company and will receive practical training in the various processes which take place there. As you assume more and more responsibility, you will also become familiar with the work of departments such as Purchasing, Sales, Accounting and Human Resources.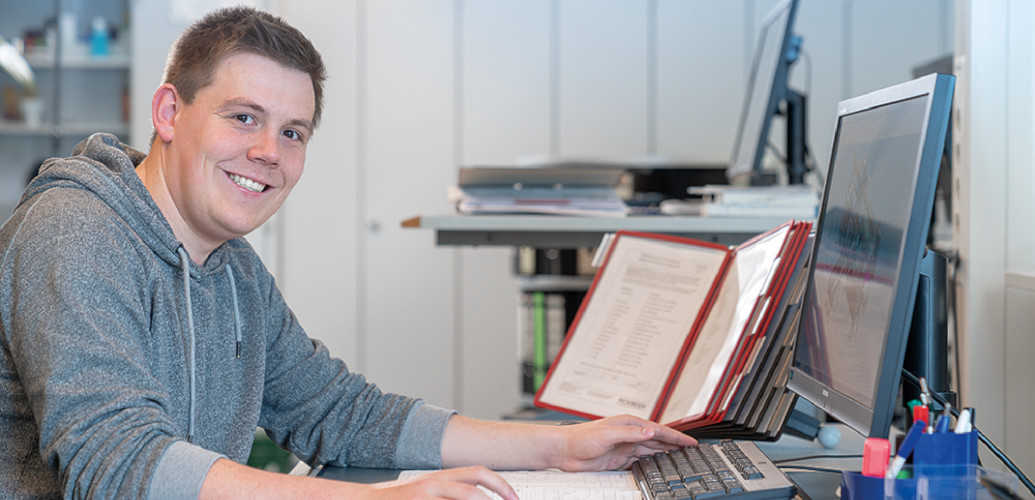 TECHNICAL PRODUCT DESIGNER (m/f/o)
  DURATION OF TRAINEESHIP 3.5 years
Good spatial perception, a love of drawing and an interest in technically sophisticated products: three things that make you the ideal person to join our team of product designers and engineers. You work with a variety of computer programs with which you can visualise products in 3D and create complex technical data models. You take individual manufacturing processes and material characteristics into account, plan and coordinate workflows and design processes.
DUAL STUDIES / COMBINED STUDY PROGRAMMES
  DURATION OF STUDY PROGRAMME 4.5 years
A great opportunity for trainees
Dual studies courses allow you to study and obtain a bachelor's degree while doing your traineeship. An optimum combination of independent study modules and conventional courses with mandatory attendance allows you to pursue your studies without abandoning your social contacts. Close cooperation across universities, practically-oriented research and an exchange of ideas with regional industry ensure an application-oriented knowledge transfer. And you can apply the acquired know-how directly in your everyday work.
We offer the following dual studies course:
Bachelor of Engineering, with a major in mechanical engineering, with integrated qualification as an industrial mechanic (m/f/o)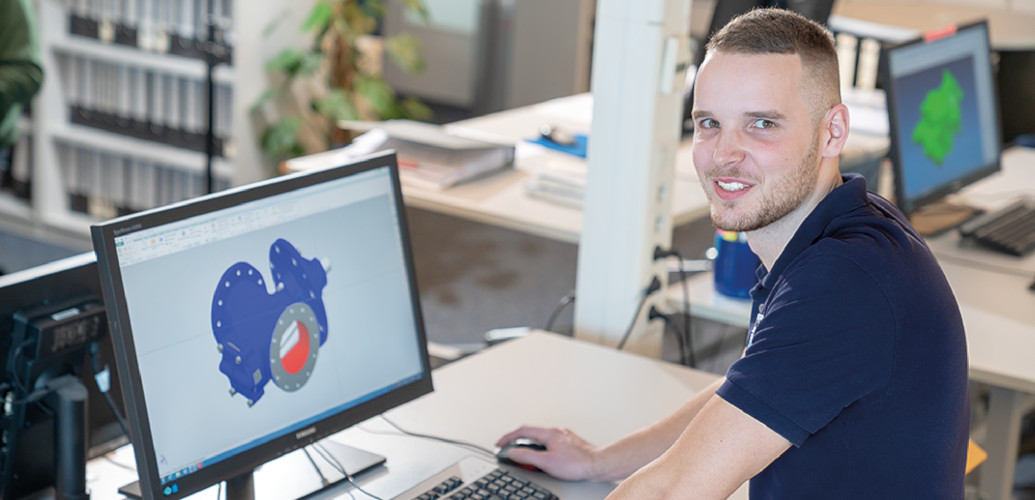 YOUR CONTACT PERSONS - ALWAYS THERE FOR YOU
Our training directors, one for the industrial-technical professions – Mr. Michael Volmer (photo, left) – one for the commercial professions – Mr. Christian Schlotmann (photo, middle right) – and one for the logistic professions – Mr. Markus Eisele (photo, middle left) – and their team of trainers as Mr. Ralf Blumenkamp (photo, right) take care of our trainees. They are your contact persons throughout your training and are there to advise and support you in all areas of your training and with any other problems. It´s their job to support with challenges, overcoming obstacles and eliminating any irritations, with the aim of enabling you to complete your training successfully.
Michael Volmer
Phone +49 (0) 2375 927 - 154
E-mail This email address is being protected from spambots. You need JavaScript enabled to view it.
Christian Schlotmann
Phone +49 (0) 2375 927 - 117
E-mail This email address is being protected from spambots. You need JavaScript enabled to view it.
Ralf Blumenkamp
Phone +49 (0) 2375 927 - 255
E-mail This email address is being protected from spambots. You need JavaScript enabled to view it.
Markus Eisele
Phone +49 (0) 2375 927 - 246
E-mail This email address is being protected from spambots. You need JavaScript enabled to view it.